Join IPPN
Please note that membership of IPPN is an appropriate expense payable by your Board of Management DES Circular 14/02.

As the demands on school leaders increase, IPPN continues to provide school leaders with essential services, which are constantly adapted to meet changing needs. Based on your feedback through regular surveys and consultation with County Networks, IPPN is unique in its capacity to reflect the day-to-day reality of schools to national decision-makers.
IPPN provides a dedicated range of tailor-made services, professional guidance, collegial support and up to date professional development.
As the professional body for school leaders, IPPN relies on the support and commitment of members like you in order to be able to continue to provide supports and services and to represent you as a school leader.


Membership Fee:
There has not been an increase in IPPN's membership fee since 2008.
Administrative Principal & Deputy Principal - €260
Teaching Principal & Deputy Principal - €225
In a two-teacher schools, the second teacher is entitled to membership under the DP role
Membership Renewal Options
Online Payment -

Renew your membership using the payment link below. Once payment has been completed, download and print the form below, amend where necessary, return to IPPN Support Office, Glounthaune, Co Cork by post.

Cheque & Application - Cheques should be made payable to 'IPPN' and sent to: Membership, IPPN Support Office, Glounthaune, Co Cork
Direct Debit - If you choose to renew your membership by Direct Debit, please complete the mandate on the membership form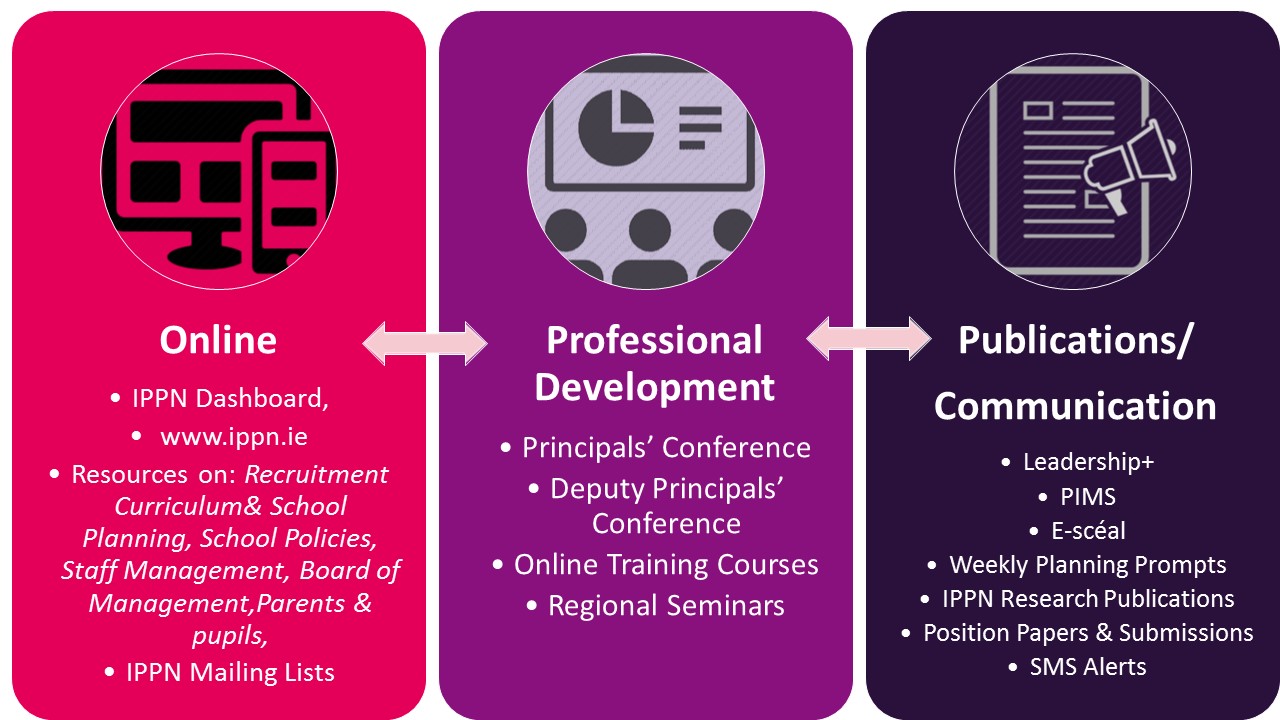 Testimonial
Imagine a world without IPPN. No networking, no PIMS diary, no Conference, no Leadership+ magazine, no TextaParent.ie or EducationPosts.ie, no mentoring or advice at the end of a telephone line. Limited collegiality! That's exactly what life was like 12 years ago when I was first appointed as Principal. Before IPPN our profession was a lonely one, we were voiceless, isolated and vulnerable. Now, our voice no longer cries in the wilderness. We are encouraged, enriched, empowered. Now we can and we do make a difference - thank you IPPN. I am proud to be associated with all involved in it. Words simply cannot express my gratitude to an organisation that has changed the face and dynamic of Irish education in a remarkably short period of time!
Noeleen Conboy, Principal, St. Brigid's GNS, Palmerstown, Dublin 20